Slide
Lindy Hop is the classic joyful dance of the Swing Era, and the most popular swing dance in Toronto and around the world today!
Ad-1
Lindy Hop is a joyful, playful improvisational dance. It is the classic dance of the Swing Era, and the most popular Swing Dance around the world today, including at Saturday Night Swing.
According to Leon James (one of the original Whitey's Lindy Hoppers superstars): "Want to dance Lindy Hop correctly? Then don't be real concerned about 'correctness'!"
Lindy Hop is done in different styles/ways, and in old film footage you may see that no two of the original great Lindy Hoppers do it in exactly the same style/way, but as Malcolm X (the great black American civil rights leader, and a Lindy Hop keener as a teenager in Boston and Harlem) said: "Any two people who can Lindy Hop at all can Lindy Hop together."
Lindy Hop was first called Lindy Hop in 1928/1927 by Shorty George Snowden (sometimes called the father of Lindy Hop) in New York City, in celebration of the first transatlantic airplane flight by Charles Lindberg (Charles Lindberg was nick-named Lindy in front page newspaper headlines like "Lindy Hops Atlantic"). Lindy Hop became a huge craze in the Swing Era and continued to be very popular into the 1950s. Other names for Lindy Hop include Jitterbug. It went out of fashion in the dark ages of social partner dancing in the 1960s, and then began a revival in the 1980s which has spread all around the world making Lindy Hop the most popular and widespread swing dance in the world today.
Lindy Hop origins: The first Swing Dance is Texas Tommy Swing (also called Texas Tommy) created by Afro-Americans in California by 1910, partly a reworking of polka, and spreading to New York City in 1911. Charleston may have developed out of Texas Tommy steps (the name Charleston comes from a dance show called Charleston which was performed in New York City), although some believe Charleston's origins are in the 19th century, and some of Charleston's origin long before that in Africa. Once swing dancing reached Harlem, New York circa 1911 it developed further. In the 1920s before the name Lindy Hop was used, the swing dancing done at Harlem's Savoy Ballroom was called Two Step and Break Aways. The styles of Lindy Hop generally done around the world today are close to Lindy Hop as done in the later 1930s and into the 1940s. (1928 Lindy Hop is similar in structure to subsequent Lindy Hop, but significant modifications were made in the 1930s.) One of the great Lindy Hoppers of the 1930s is the much loved Frankie Manning who is regarded by many as the greatest Lindy Hopper of all time, and who also taught Lindy Hop around the world from about 1985 until his death in April, 2008.
Classic Lindy Hop Footage
Let's Make Music – Dean Collins & Bertha Lee – 1941
Hellzapoppin' – Performance in 1941 by Whitey's Lindy Hoppers of Harlem's Savoy Ballroom in New York City
Hot Chocolate – performance by Whitey's Lindy Hoppers with the Duke Ellington band
Day at the Races – performance by a Whitey's Lindy Hoppers group in this 1937 Marx Brothers Movie
Groovie Movie – 1944 Lindy Hip movie (note that Jitterbug is another name for Lindy Hop)
Dean Collins – Tabby the Cat -1945
Nick Williams & Alice Mei – 2012 International Lindy Hop Championships (ILHC) (Washington, DC)
Kevin St Laurent & Jo Hoffberg – 2014 International Lindy Hop Championships (ILHC) (Washington, DC)
Sharon & Juan – 2009 Provence Swing Festival
Sharon & Juan – 2013 Rock That Swing Festival (Munich, DE)
Camp Jitterbug (Seattle, WA) – 2008 Lindy Hop Couples Finals
European Swing Dance Championships (ESDC) 2015 (London/Hillingdon, ENG) – Masters Lindy Hop Couples – Finals
Lindy Shock 2018 (Budapest, HU) – Luck of the Draw Finals
HARLEM 2016 (Vilnius, LT) – Strictly Lindy Finals
Peabody & 1920's Partnered Charleston Footage
Here are mostly footage of Chad Fasca and Midori Asakura doing some excellent Peabody and 1920s partner Charleston (and also some Rhythm Tap Lindy Hop, and some Lindy Hop). They are two of Swing Toronto's favourite dance teachers, dancers and historians of early 20th century American partner dancing in the world.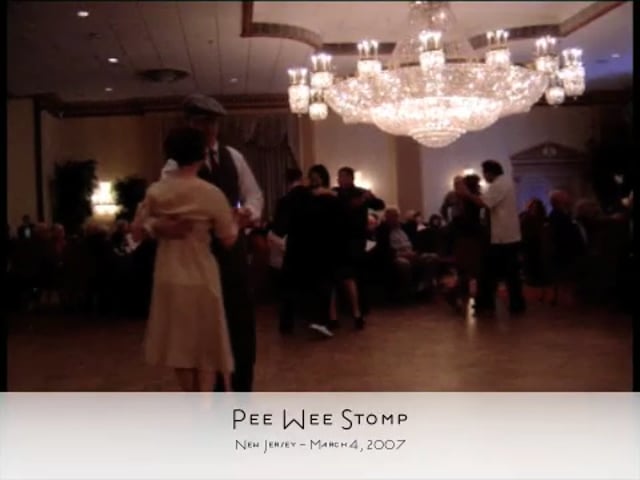 Chad & Midori – Pee Wee Stomp – 2007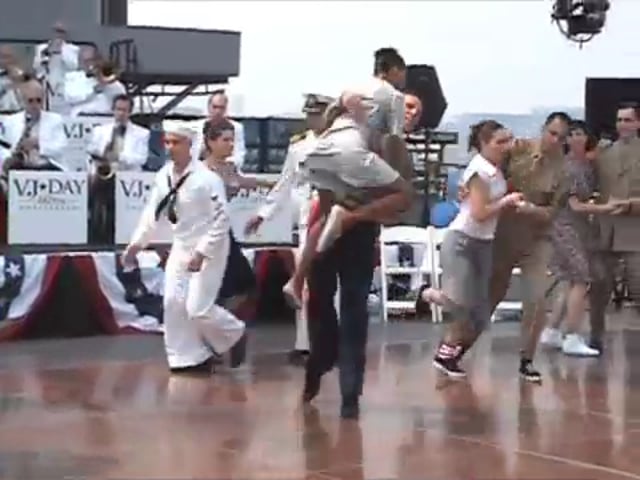 Chad & Midori + ensemble – History Channel VJ Day Swing Show – 2005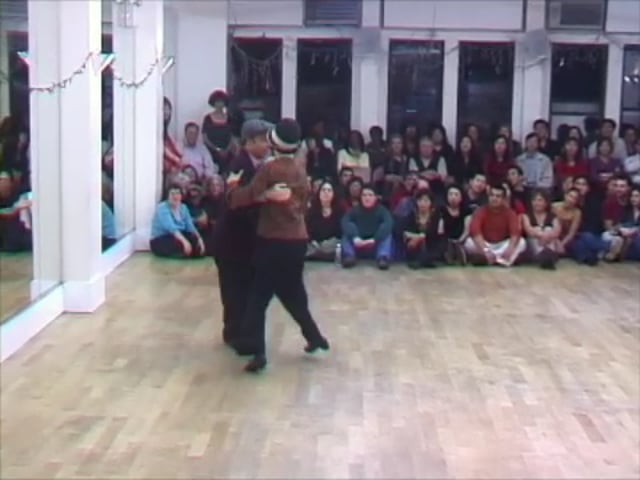 Chad & Midori – Sandra Cameron Dance Center Guest Night – 2007
Chad & Midori – American Lindy Hop Championships (ALHC) 2004, 1st Place, Fast Dance Division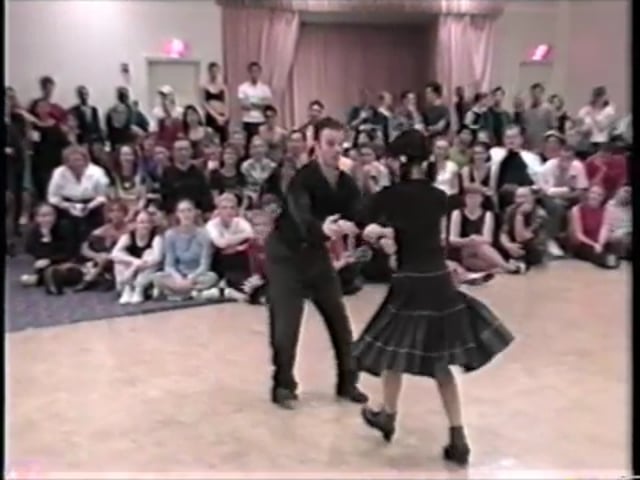 Chad & Midori – American Lindy Hop Championships (ALHC) 2000, Cabaret Division (Lindy & Rhythm Tap)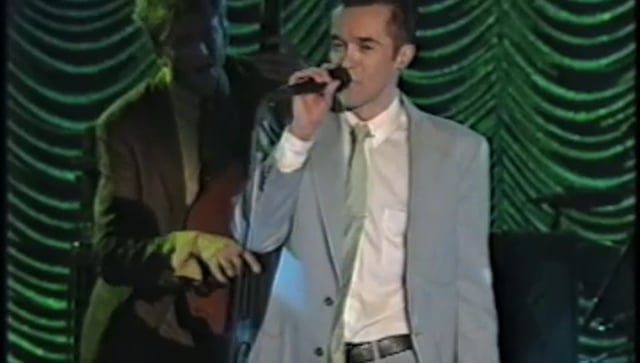 Chad & Midori – AMC Swings! TV Special w/ Cherry Poppin' Daddies, 1999
Chad & Midori – 92nd Street Y – Bobby Darin Tribute Show – 2004
Sandra Cameron & Paul Grecki – Peabody at the Dance of the Year celebration – 1991
Balboa is another classic swing dance done by Lindy Hoppers and others in Toronto and around the world! It is known as a "dancer's dance."
You can learn more about Balboa here!
Mickey & Kelly – Prague Spring Swing Festival – 2013
CalBal Classic 2018 – Pure Balboa Classic Finals
Balboa Rendezvous – International Balboa Competition Finals (2006)
Balboa Rendezvous 2009 – Masters dance
Maxie Dorf ft. Ann Mills, Hal & Marge Takier
Korea Balboa Weekend 2013 – Nick Williams & Sylvia Sykes demo
All Balboa Weekend 2014 American Classic Balboa Championship Finals
Willie Desatoff compilation – dancing with Ann Mills, Marie Fido, Inez Thompson, Nancy Raftery, Lila Desatoff, Freda Angela Wyckoff, Lucille Laitz and others